New York City Real Estate Investments
Premier Buyer's Agent representing real estate investors since 2001, built on reputation and proven results. Buy with confidence.
We help clients diversify, position, protect, and grow their real estate investments in New York City. Investors seeking to purchase investment property need undivided loyalty and experienced guidance; that is what we provide at ELIKA Real Estate. New York's leading buyer agent means we work solely for buyers' interests.
Our primary focus is on residential real estate investments. We aim to help clients navigate the buying process and find the best deal with the least risk. With an ELIKA buyer's agent by your side, you can be sure of receiving excellent service and expert advice.
New York has always been attractive, and it is not changing anytime soon. This popularity has led to a wide variety of available; new developments, apartment resales, and single and multi-family properties. New York City is a classic example of supply and demand for investors. For those with investment capital, much can be gained. Market fluctuations may be frequent in real estate, but you can be less severe when choosing the right investment property. We provide comprehensive services to make sure you meet your goal.
Explore
Featured In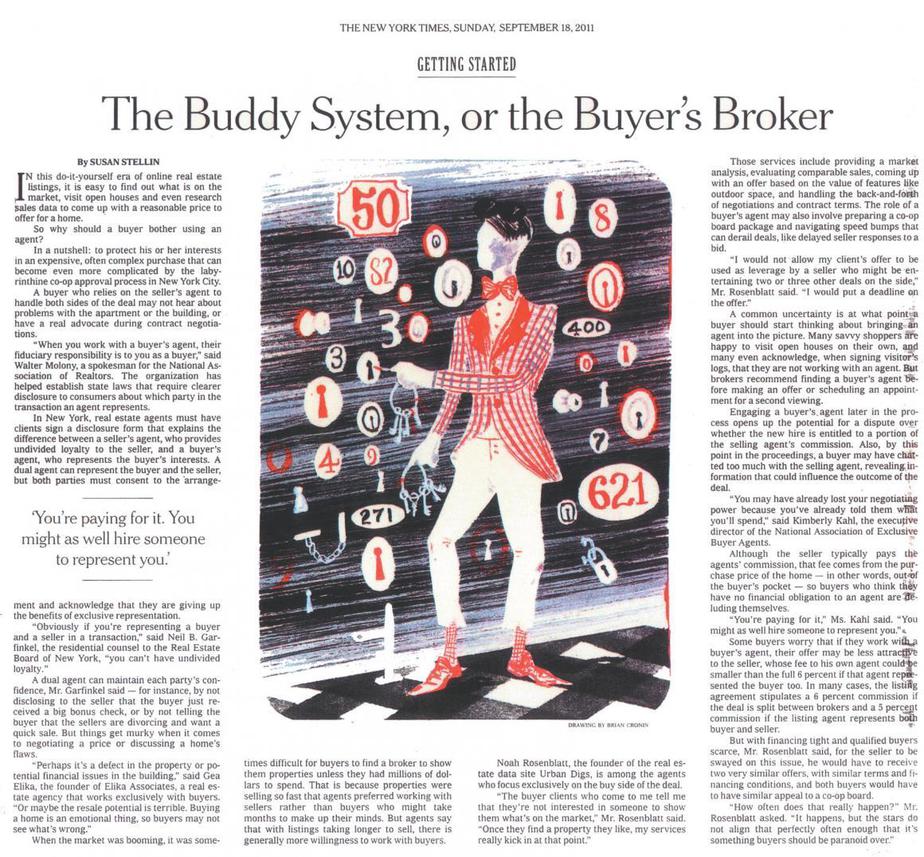 Not all properties are worth buying
Supply and demand aren't consistent across the city. That's because investment potential varies from one neighborhood to the next. Finding the right property and best terms mean knowing the local market, what changes may be coming, and the buying process.
ELIKA Here to Help
ELIKA provides real estate investors an end-to-end investment solution, from buyer's representation to property management when needed. We help you through the buying process with 20 years of service excellence and resources. Our focus is on assisting clients in identifying and acquiring quality properties built to outperform. Our agents guide you through each property type, highlighting each building's pros and cons and broader neighborhood. Once found, we'll estimate the fair market value and strategize on an offer to negotiate, handle negotiations, take care of all the paperwork, and conduct the final walk-through to closing.
New Sales Contracts in NYC
Buying Investment Property in NYC
Many people have dreamed of owning real estate investments in New York City. Unfortunately, many investors stop there and don't consider it a real possibility, misbelieving it is only an avenue for the super-rich. It's time we eradicated that myth. Investors come in all shapes and sizes, and, believe it or not, some properties are found at reasonable prices. While owning your own home has many benefits, there is a way to invest in real estate to produce a steady income flow.
Be prepared for much research and planning if that becomes a reality. To help you get started, here's a complete list of all the considerations you need to make before investing in New York real estate.
You may also wonder about the best ownership structure to purchase a real estate investment. Many attorneys and tax accountants agree that buying under an LLC is the best fit for most investors. You can learn more about forming an LLC by reading this article.
Reasons for Investing in New York City Real Estate
New York City is well-known, perhaps the most important city in the USA. When people talk about America first, they think of New York as the financial capital. L.A. is the U.S. entertainment capital. Thus, investing in New York City, which is diverse in industry and population with a rich history, provides the perfect location and backdrop for housing. There is a magnet for economic and job growth from leading educational faculties too many companies headquartered.
Well located globally
Diversified industries
U.S. dollar
Political stability
Safe Jurisdiction – The Swiss bank of Real Estate
Foreign Buyer friendly
Freehold
Transparent ownership rights
Supply and Demand
Portfolio diversification
Resilient Market
Return on Investment – a Proven track record of outperformance
Considerations Before Buying a Real Estate Investment
Buying a real estate investment is a big decision. You'll want to know all the significant considerations you must make before starting. Real estate investing can be a risky business at first, so having a trusted buyer's agent by your side is such a great help. Our agents have the experience, knowledge, and training to make our clients as easy as possible. However, we can only give the right advice when we know what our client wants to accomplish. We work closely with you to understand your needs and find a suitable property investment for you.
Additionally, we work with each of our clients on an individual basis. By listening to your needs and working closely with you from the beginning, you can be sure of receiving nothing but the best advice.
There is a high source of demand at present, and the economy is performing well. According to the U.S. Census Bureau's American Community Survey, approximately 45% of New York City Housing comprises rental units. The highest among cities in the United States. For instance, Los Angeles has 39% of its housing devoted to rentals, while San Francisco's was 37%. Other sources estimate that about 67% of Manhattan's housing stock is rentals. Source: National Multifamily Housing Council.
Why it's Not About Yield
Imagine this; it's baseball season, so you sit to watch your favorite team. The star player is at the plate, and as he gets ready to hit, you see he's holding a cricket bat. Of course, this scenario is ridiculous, but that's how experienced investors see many new arrivals in the NYC real estate investment game. They're playing the right game but with the wrong tool. Here, the lousy strategy is focusing too much on yield. Instead, capital appreciation is the main game in this city.
Historical Yield
The rental yield, or cap rate, is your net cash flow divided by your purchase price. As a beginner investor, it's natural to think this matters most. In this city, it has historically been 3%-4%. Much lower than yields across the country. Multi-family properties in Atlanta and Chicago are about 4.75% at the low end and over 6% in Indianapolis, according to one study. Many cities offer a higher yield, making rents an attractive steady income source. However, despite the high rents commanded in New York City, this is not the primary factor generating returns and naturally leads to the question: why invest in New York City?
As you've probably guessed, there's a missing piece to the return equation. After all, an investment in the ten-year Treasury note currently has a 3% yield. Since the United States government's full faith and credit are backed, the principal's repayment is risk-free. Unlike real estate, it's a passive investment that doesn't involve inconvenient calls for emergency repairs and unruly tenants. Since there is more risk, there must be a higher potential return.
Capital Appreciation
The answer is that real estate investors have generated a large portion of their gains from rising prices. For instance, real estate appraisal and consulting firm Miller Samuel examined Manhattan prices for 100 years, from the 1910s through the 2010s. In the 1970s, the sales price was $45 per square foot for luxury properties, rising to $1,200 in the 2000s. In a narrower period, covering 2004 to 2013, Manhattan's median sales price rose from about $606,000 to $855,000. A 141% rise or a 3.5% compounded annual growth rate. There are a couple of things to note here. The 2004-2013 period includes part of the build-up during the bubble and the sharp contraction during the recession. But over a decade, these large swings balanced to a 3.5% annual gain.
Return on Real Estate Investment
Measuring profitability is essential. However, in isolation, it means very little. Rental income minus monthly expenses such as maintenance, repairs, financing costs, and net income. It would help if you compared it to the amount invested. Other investments should examine the percentage. For example, if you have a 2% return and the ten-year Treasury bond yields 2.8%, you would be better off with the latter. Incredibly faithful since the risk of losing your principal is extraordinarily small (most consider it a risk-free investment).

There are a couple of other considerations. Although the purchase price is typically determined based on square feet, renters usually look at the number of bedrooms.
Also, it is crucial to analyze sales and rental data. The two do not always move in lockstep, and there have been instances where sales prices have risen faster than rents. Therefore, a smaller unit may command a higher rent while purchasing less if extra bedrooms are added. In real estate, leverage, or borrowed funds, is often used. Potentially increases returns since you can buy a property with a down payment and pay the balance over time. Of course, it also increases risk and magnifies losses in a downturn.
Investment Strategies
Our investment clients prefer free-standing, architecturally exciting buildings developed by well-vetted developers and interesting, accomplished architects. We look for a uniqueness that will mature gracefully, quality of construction and finish, walkability, building services, the lifestyle it offers potential tenants, and if we were to live there with family.

Preferences can differ depending on our client's investment profile. However, we adapt to position our clients as best possible to accomplish their goals. The unit mix is also a key metric we assess.
Locate real estate investment properties that will outperform the market
Buy what a New Yorker would want to live in
Capital Appreciation
Desirable Architecture
Superior Product
A particular neighborhood might be great, but it depends on the street and building type. We believe the best areas, streets within, and the property is where a New Yorker would want to live. Our preference is a hyper-local approach concentrating on fascinating histories and well-positioned to provide current housing demand and capture future growth.
Property Type
The type of property used will significantly impact its investment potential. For instance, many co-op apartments restrict property owners subletting rights. Elika agents can help you understand subletting requirements and avoid those properties. Whatever the pros or cons, you can trust us to give you an accurate, real picture of what to expect.
Tenant
Specific real estate investment properties will attract stable long-term tenants. You should know how to avoid residential properties with a high turnover. Our agents can help you pinpoint those properties which are more likely to attract long-term tenants.
Property Statistics
A property's value is tied to the building, neighborhood, and specific unit. Neighborhood amenities, transportation, property age, and community features will affect investment potential. We'll gather all the intel needed to make the right decision through various sources.
Neighborhood-Specific Markets
Property costs, yield, and capital appreciation vary from street to street and from one building to another. You'll need a real estate buyer's agent who can access all properties and independent market analysis when investing. Every investor wants a property in a neighborhood that sees high capital appreciation. Our job is to find you in that neighborhood.
Working with an Investment Advisor
Before buying a real estate investment property, you'll need as much information about its long-term potential. Research and experience make a big difference. You can significantly improve your real estate investment portfolio with strategic property acquisition. Elika Real Estate can help. Whether you already own a property or are looking to diversify, our investment experts will help you gather accurate information that you can use to make responsible decisions.
Tailored Real Estate Investment Services
Our agents don't just stop finding you the right property. We like to go the extra mile and provide a tailored service to suit each client's individual needs.
Comprehensive Needs Analysis
To spend your time wisely, you'll need an exclusive buyer's agent who understands your goals. At Elika, we gather vital information from you before showing properties. Our dedicated agents will know which options work well with your portfolio and needs. We'll never waste valuable time with unsuitable properties by extensively analyzing your needs.
Property Selection
If you want your real estate investment to succeed, you'll need accurate information. Our experts work exclusively as buyer's agents. Due to this, they understand the investment potential and know-how to see past the listing agent's sales presentation. We always provide unbiased, accurate information about the properties that we show. We have a strong incentive to help our clients avoid lukewarm investments and find only the best.
Comparative Market Analysis
You also need to know how each property compares to the rest of New York City's real estate investment market. We provide a comparative market analysis so that when you start the purchasing process, you'll have confidence and complete peace of mind in your decision.
Negotiations
We'll help you understand the buying process in its entirety. When you're ready to make an offer, we'll negotiate on your behalf. The purchase price is your Investment's single most controllable variable. Our experts will help cut costs significantly by understanding your budget and goals. There may be a bit of back and forth in negotiations. But by having one of our agents by your side, you'll feel much more confident as you proceed.
Vendor Referrals
Buying investment properties requires the help of several professionals. Elika has access to some top attorneys, accountants, and mortgage bankers in New York as an exclusive buyer's agency. Finding reputable representation can be difficult if unfamiliar with the local market. We can refer you to great companies that'll save money while providing top-tier services.
Property Management
Real Estate investments take work to keep running. If you need help with the management aspect, we can also help. Our management team will handle everything from finding and screening tenants to handling tenant requests to overseeing repairs or maintenance. We know that many investors can't be on hand to handle the little details of property management. That's why we provide management services to care for all those details.
Final Thoughts
Elika Real Estate ensures a hassle-free process when purchasing a real estate investment in the largest real estate market in the world. We maintain every aspect of buying and leasing real estate investments in New York City. As such, you can be sure of enjoying a successful and hassle-free experience. Diversifying your portfolio with New York real estate investments is a safe, intelligent financial move when working with a qualified agency. With a unique knowledge of the New York housing market, Elika Real Estate gives you unbiased information, advice, and a wealth of resources you can use to make an appropriate purchase.
One of our agents will be with you shortly to discuss your needs and set up a meeting to plan your real estate investment strategy.