New York City Apartments for Sale
Premier Buyer's Broker with 20 Years of Luxury NYC Apartment Experience.
Buying a luxury New York City co-op or condo apartment can be overwhelming without experienced help. Taking time to learn the buying process can make it easier. Our buyer's agents make this process much less stressful by providing our clients unbiased advice and comprehensive services. We have represented hundreds of home buyers and investors in New York City, both local and international. Since we never sell properties, all potential dual-agency conflicts of interest are avoided.
With ELIKA by your side, you can be sure of receiving the best service and knowledge. Request a custom apartment search to receive a personalized list of the best available properties based on your needs. Representing home buyer's since 2001.
Ready to Buy an Apartment?
We're here to represent you. Request a Custom Search
Explore
Featured In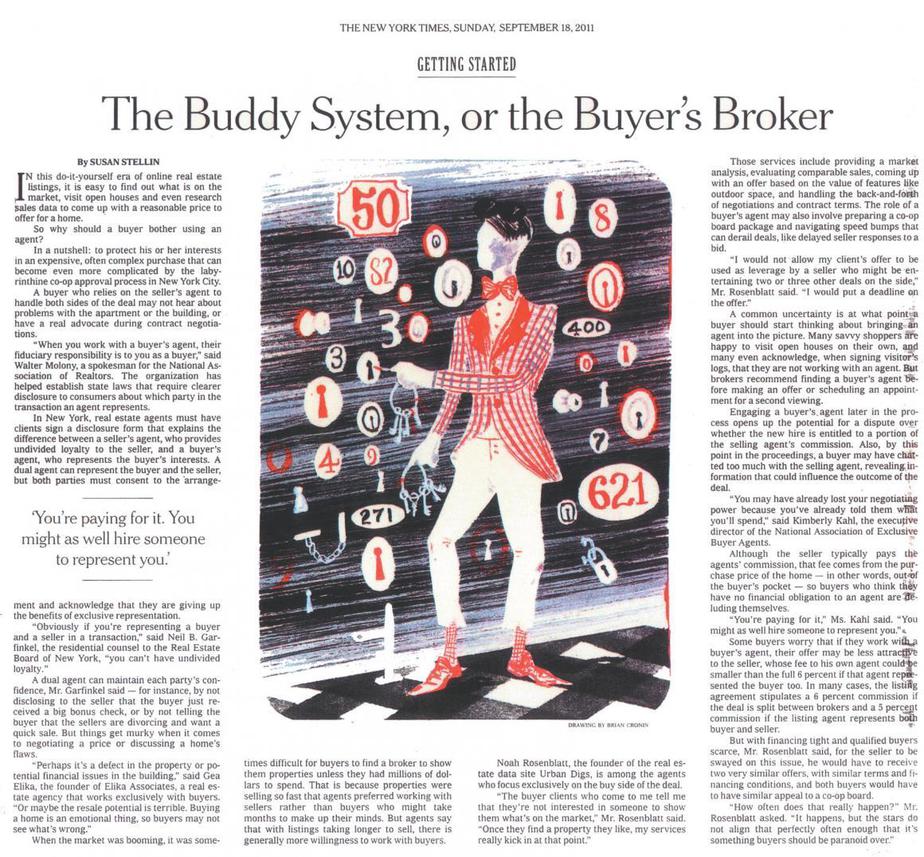 Buying a New York City Apartment
Finding the best apartment can be daunting for even the most financially savvy. After all, your choice of a New York City apartment will have to suit your needs and finances for years to come. Following a game plan and working with an Elika buyer's agent can simplify the process. You may want to visit our dedicated international buyer's guide if you're a foreign buyer. To get started, consider each of the steps below.
The process of Buying an Apartment
Contact a Bank and get pre-qualified for a mortgage, if financing;
Team up with a Buyer's Agent and a real estate attorney to represent your interests;
Determine what you are looking for, build a wish list, and choose neighborhoods and apartment types. Your buyer's agent will shortlist the best available properties.
Once you find the ideal apartment, ask your buyer's agent to perform a comparative market analysis to estimate its fair market value;
Ask your buyer's agent to submit a written offer to formalize your intention to buy;
Upon receiving a counteroffer, your buyer's agent will negotiate for you until an agreement is reached and the offer is accepted.
Next, Your Buyers agent and attorney will receive a deal sheet from the seller's agent,
After that, your real estate attorney will negotiate the contract of sale, perform due diligence on the property, and review the building's financials, board minutes, and outstanding liens. This process generally takes 5/7 business days.
It is time to sign the contract and pay the deposit, usually 10%-20% of the sale price. Once the seller has countersigned the contract, you are now officially in a signed contract.
Next, your buyer's agent will prepare and submit the purchase application to the co-op or condominium Board.
Following that, you will be scheduled to attend an interview in the case of a co-op. Or Schedule and prepare for closing in case of a condo upon board/management approval.
Finally, take a final walk-through with your buyer's agent on the day of closing, proceed to close and finalize, and get the keys to your dream home.
Prioritize your NYC Apartment Wish List
Would a condo or coop apartment be a possible choice?
Choose your preferred neighborhood(s).
Prioritize the amenities and services you would like in your area. (schools, transportation, etc.)
How much space would you like and need in your new apartment? Which type of space? (dining room, closet)
Is your priority the neighborhood or size of an apartment?
Would you prefer to buy a 'fixer-upper or a 'move-in-ready home?
How much importance do you place on home value appreciation?
Would you prefer a high-floor apartment with sweeping views or more square feet on a lower floor?
Which features and amenities (essential and luxury) would you expect in your home or building?
Apartment Types and Sizes
New York City boasts many standard-sized apartments, but several types have particular layouts. Here are a few descriptions:
Studio
A one-room dwelling where the living room and the bedroom are in a single space. In larger studios, the kitchen is in a separate room; in others, you can find the eating area along one wall in the main space. Studios can also be referred to as efficiencies.
Alcove Studio
A one-room apartment with an open area adjacent to the main space can sleep. This type of dwelling is also referred to as an L-shaped studio because of its configuration or a junior—one bedroom.
Flex (convertible) Two
A one-bedroom apartment with ample space, typically the living room, is transformed into another bedroom and a smaller living room by installing a temporary, pressurized wall dividing the space.
Junior 4
A one-bedroom apartment; that features an alcove area in the living room, typically used as a dining room or converted into a second bedroom.
Flex 3
A two-bedroom apartment with an alcove in the living room is convertible to a bedroom.
Classic 6
This apartment type exists exclusively in prewar buildings and describes a dwelling with six rooms. In addition, there is a living room, a formal dining room, a kitchen, two full-sized bedrooms, and a small third bedroom, generally referred to as the maid's room. (Classic 7s and 8s also exist and offer one or two additional full-sized bedrooms).
NYC Apartment Building Types
There are three basic kinds of buildings in Manhattan: Doorman, Elevator (attended and unattended), and Walk-Up (unsupervised):
Luxury High–Rise
The specific luxury amenities will vary from building to building but will leave you feeling pampered. These buildings have an entire around-the-clock staff consisting of multiple door attendants and attendants. In addition, they often offer such amenities as hotel-type concierge service, on-site health clubs, pools, laundry service, and children's playrooms.
Doorman Building
You'll quickly learn that Manhattan revolves around deliveries if you're new to the cityYou are havingng someone to sign for your packages can feel like the ultimate luxury. There are three formats within buildings with door attendants: luxury high–rise, standard, and part-time doorman.
The apartment buildings that offer door attendants tend to be larger and provide the most significant safety and security. However, they also afford the highest comfort and convenience because your doorman can do a lot for you while you're not home, including taking drop-offs of packages and dry cleaning.
Part-Time Doorman
These buildings usually have door attendants for day shifts but rely on security cameras or other technology to protect residents at night.
Elevator Building
These buildings are considered between doorman buildings and walk-ups regarding security, convenience, and price. These buildings do not have door attendants on duty, though some may employ elevator attendants. They often have laundry rooms on the premises and intercom systems, but the amenities stop there. Still, if these buildings are adequately maintained, they can be comfortable living places.
Walk-Up Apartments
These buildings do not have door attendants or elevators. They can be townhouses or brownstones (4–5 stories), above storefronts (usually 1-2 levels), or low–rise buildings (free-standing 4–5 stories). These are the most reasonably priced apartments in the city, yet they have very few amenities.
However, most walk-up buildings have double-door security, and a few have more sophisticated features, such as intercoms and security cameras. As with elevator buildings, the quality of life in walk-ups can vary greatly depending on the degree to which they are maintained.