New York City Buyer's Agent
Premier NYC Buyer's agent representing home buyers since 2001, built on reputation and results.
As dedicated buyer agents at ELIKA, we help buyers find the perfect home in New York City while providing best-in-class service. When you hire us, you will receive 100% loyalty, 100% of the time, independent research, unbiased assistance, and strategic advice. Our goal at ELIKA is singular: help our clients buy the right property for the right price.
Navigating the complexities of the New York real estate market can be overwhelming. That's why we offer two comprehensive buyer's agent packages to cater to your specific needs and budget.
Our Complete Package provides you with the full breadth of our expertise, guiding you seamlessly through every step of the home-buying process. From narrowing your search to securing the right property for the best price, we'll be your trusted advisor and advocate.
For those seeking a more streamlined approach, our Light Package offers essential services to help you confidently finalize your purchase. We'll review the listing price, draft and submit an offer on your behalf, and prepare and submit your condo or co-op application.
For more information, visit: A La Carte Buyer's Agent Services
Explore
Featured In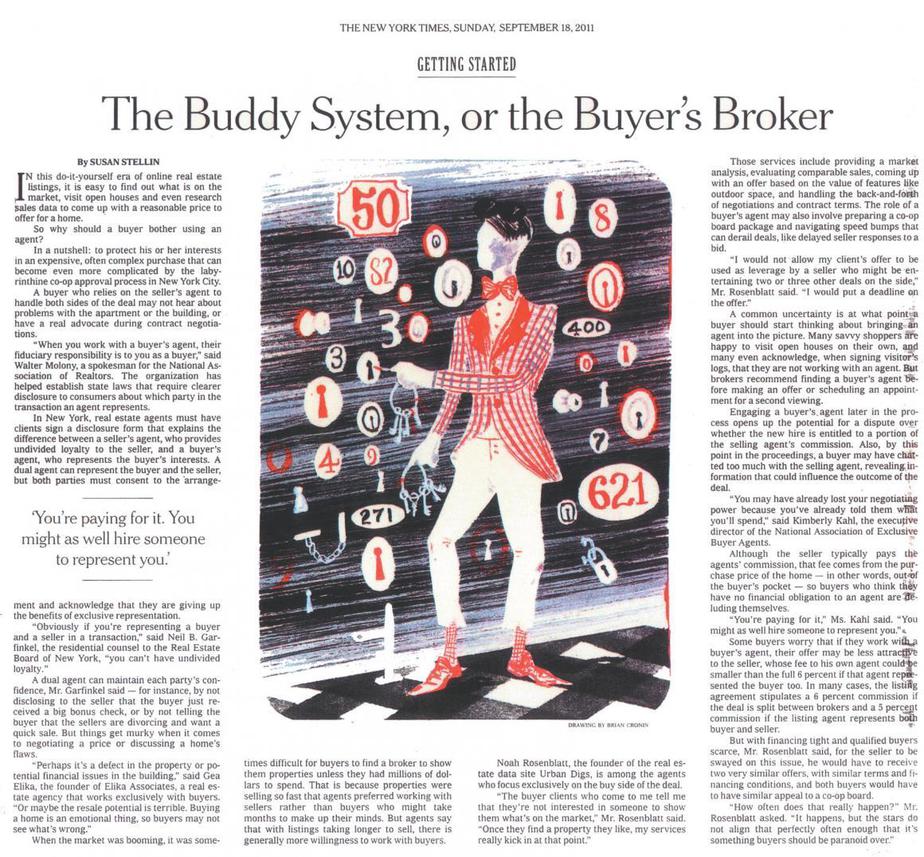 The Cost of Dedicated Buyer's Agent
Starting January 1, 2024, a new law requires sellers to pay the buyer's agent commission directly. This ends the traditional practice of listing and buyer agents splitting the commission with the listing agent 50/50. Most sellers and listing agents see the value of working with a buyer's agent for maximum exposure and typically offer to cover the full commission. However, if a seller offers to pay a 1% commission, the cost to the buyer would be 1.5%. Our first approach is always negotiating with the seller to pay for the full 2.5 percent commission. Alternatively, we will explore negotiating the overall price to compensate for the potential commission cost.
Video Introduction: Duties and Services
Services We Provide
Property Search
Access to all properties with efficient viewings
Expert Property Insight and Feedback
Listing Price Analysis
Strategic Offer Structuring and Presentation
Skilled Negotiations
Mortgage Financing Assistance
Condo and Co-op Board Package Preparation and Submission
Property Walk-Through
Post-Closing Support
Connect you with reputable attorneys, home inspectors, and contractors when needed.
Property Search
We help you find properties that meet your needs and criteria and save time and effort by narrowing your search. We can also provide you access to off-market properties that are coming soon.
Access to all properties with efficient viewings
We schedule viewings for you and can accompany you to viewings to provide you with expert advice. We help you to identify potential problems with properties that you are considering.
Expert Property Insight and Feedback
We provide expert insights into the local market and help you evaluate the condition of properties you are considering. We also help you to identify potential red flags.
Listing Price Analysis
We help you determine the fair market value of properties that you are considering. This information can be used to make a competitive offer that is more likely to be accepted.
Strategic Offer Structuring and Presentation
We help you structure and present your offer in a way that the seller will most likely accept; this is especially important for co-ops that require a financial statement. We present your offer professionally and persuasively.
Skilled Negotiations
We negotiate on your behalf to get you the best possible price and terms on your home purchase.
Mortgage Financing Assistance
We work with your mortgage lender to help you get the best possible mortgage interest rate and terms.
Condo and Co-op Board Package Preparation and Submission
We help you to prepare and submit the necessary paperwork to the condo or co-op board. We also help compile the co-op board application and prepare you for the board's approval process and to increase your chances of being approved.
Property Walk-Through
We accompany you to the property walk-through to identify any potential problems with the property. If needed, we then discuss potential issues with your attorney to potentially negotiate fixes with needed.
Post-Closing Support
We provide you with support after the closing of your home purchase. We help you resolve any issues and make the transition into your new home as smooth as possible.
Personalized Service
We know finding and choosing the right home or a new investment property takes time. That is why we exist to serve you by handling all the complicated steps and research so you don't have to.
As a REBNY member, we have access to all New York City properties listed for sale and, at times, properties off-market and coming soon not listed in the RLS. When you work with an ELIKA buyer's agent, you can be sure of finding your ideal home and or investment.
Receive your free consultation from an ELIKA agent. Our team will take all your needs and desires into account to track down the property you seek. Once the agent has a shortlist for you to view, they'll accompany you every step to answer questions and provide advice.
What We Do
You'll need the best representation if you're in the New York City market for a condo, co-op, or townhouse. Many homebuyers mistake choosing a sales agent or a part-time buyer's agent. The problem with this could be the wrong representation. Agents are not always obligated to work in your favor. A sales agent is excellent when selling a property, but the potential dual agency can often work against you if you buy. That is because sales agents work for the seller; their job is to get the highest price possible and terms in the seller's favor. Instead, if you go with a dedicated buyer's agent, you'll be guaranteed a loyal agent who will work only for you.
That is precisely what ELIKA Real Estate provides: a dependable, trusted agent who will look after your best interests and fight to get a property on fair terms.
How We Are Structured
ELIKA Real Estate is the premiere New York City real estate company specializing in dedicated buyer representation. Our duty and responsibility are to the buyer 100% of the time.
Whether you're a US resident or a foreign investor, we have the skills and experience to find a property that suits your needs and secure it on favorable terms. Also, being a member of The Real Estate Board of New York (REBNY), we access all of NYC's exclusive listings. That means you'll have a far more extensive inventory to select from.
What is a Dedicated Buyer's Agent?
A buyer's agent makes the purchasing process more accessible; we present all the facts about every property. Since our firm doesn't handle sales listings, we have no conflict of interest when extending our services.
While the same incentive remains for a buyer's agent, whose commission also increases with sales price, they follow a different standard. A buyer's agent has a fiduciary duty to their client. We follow a strict Code of Ethics and Standards of Practice, which include a duty to act on behalf of the buyer/client with due diligence, professionalism, and reasonable care, along with a commitment of undivided loyalty.
In other words, a buyer's agent is legally bound to work for your best interest. Our responsibility is to discover and pass along any information that helps you decide on a specific property. Experienced buyer's agents can identify properties that could outperform and negotiate the best price. A seasoned buyer agent performs comparative market analysis, much like an analyst, which traditional dual agents do not deliver to the same degree.
We Help You Secure a Mortgage.
Mortgage financing can be complicated and confusing. It can be challenging to decide which mortgage loan or bank suits your circumstances, especially when your first home purchase. A buyer's agent will help you navigate seamlessly. They'll help you understand each of your options and help you to secure pre-approval and mortgage financing. It is essential to know that not all banks can close the deal or position your offer.
Knowing your options is paramount whether you are a local home buyer or a foreign investor. Cash is king in real estate; being positioned as the next best offer will make you competitive, and make sure to package your offer well; this will help you reach an accepted offer and signed contract. Some banks may offer a better interest rate or expedited review.
A Curated New York City Home Search
Many property listings are available in New York City; our job is to find those built with the potential to outperform. StreetEasy is the best consumer platform in NYC, but it still suffers from the same problems as others, mainly that you'll have to comb through hundreds of less desirable properties mixed in with the good.
Make a shortlist based on your wish list, preferred neighborhoods, and maximum budget to find the perfect property. While this is not hard, it can be time-consuming, especially when unfamiliar with neighborhoods, streets, and better buildings. Even if you can narrow down a list of 10 or 20 properties to call, you'll have to find the time to visit each and evaluate them.
When you hire a buyer's broker, they search and curate based on your needs and budget. They can then schedule appointments to view properties that suit your needs and are potentially worth considering. This alone can be invaluable if you work full-time and don't have free time. When viewing properties together, we explain each's pros and cons to help you decipher the right one. This saves you time and ensures you find a desirable property with great long-term potential that matches your needs and budget.
We Analyze the Market and Comps
With two decades of NYC housing market experience, we know what to look for to find the essential information. With real-time market data and access to the best tools available, we position our clients for a successful property purchase. Whether condo or co-op, we assess relevant like-kind comps and adjust to the market, ensuring our clients pay the right price, no matter the property type. To learn more, read up on how our comparative market analysis works.
Submit Offer Strategies
Using an in-depth comparative market analysis report and real-time considerations, expect to receive a detailed report that will best position your offer. The summary includes a fair value estimate, offer price, and negotiation strategies. We put you in the best position to make the right offer.
Expert Negotiators.
The majority of listed properties in NYC are represented by listing agents. Buyers must deal with listing agents rather than the sellers unless a For Sale By Owner (FSBO) listing. The listing agent will assume dual agency without a buyer's broker representing your interests. This means that while the listing agent will help you with any questions, their loyalty will be to the seller. Their job is to sell for the highest price possible. Therefore, in negotiations, they will always lean towards favoring the seller. Unless you have much experience handling negotiations, you could be in for a rough ride alone. There may be counter-offers and other interested buyers. You could see your offer rejected unless negotiated carefully.
A buyer's broker can handle all of this and suggest how best to answer counter-offers or, if needed, win a bidding war. If you've chosen the right buyer's agent, they will know the neighborhood, current market breadth, and perhaps something about the seller's motivations.
Also, in NYC, sale contracts are non-binding until both parties have signed. Sellers have the distinction of being the last to sign. This means that even if they verbally agreed to accept your offer, a better offer might come through and lead to them canceling yours. Unfortunately, you can do little if this happens, but you'll be better prepared if you have an agent.
Professional Sundry Services.
Buying a home requires the help of several different professionals. Before closing, mortgage brokers consult real estate attorneys, home inspectors, contractors, and others. The cost of these services can add up, so we source the best professionals to help you make it to the closing day and beyond.
As should be clear, dedicated buyer's agents are the way to go. Elika agents provide undivided loyalty to you and work to get you the best price and terms possible. Since buying a home is a big decision, you'll need the best advice and guidance. Our agents work to do just that.
New York State requires that all real estate agents disclose their agency relationship and the rights and obligations it creates. You can use the disclosure form for the buyer and seller to clarify who works for whom. We do not list properties for sale, so we are the only firm in Manhattan eligible for membership with the National Association of Buyer's Agents.
Help you Overcome Setbacks.
It is rare for a home sale to go entirely smoothly with no road bumps. The home inspector's report may come back with issues that must be addressed. If that happens, your agent can advise you on how best to proceed and handle any renegotiations. If negotiations become deadlocked, it can be reassuring to know you have an agent standing between you and them.
Emotional Filter.
Buying a home can be a very stressful time. At such times, it's easy for people to let emotions cloud their judgment and make rash decisions. Since a buyer's agent is not emotionally attached to a property you're interested in, they can help keep you on track and see the pros and cons.
Not all Buyer's Agents Are Equal.
While buyers can benefit significantly from working with a dedicated buyer agent, not all will work in your best interests. Make sure you choose a buyer's agent who will only do what is in your best interest. Check the accreditations of the agent and their firm and interview each one carefully before signing anything. You will want not only the best but also someone you can get along with. You will spend a lot of time together; it helps when both are on the same page.
We deliver loyalty and professional responsibility to you 100% of the time. If an independent buyer agent/brokerage is unavailable in your area, find one that has earned an Accredited Buyers Representation (ABR) designation. When deciding between buyer agents, these are the two most significant distinctions. A dedicated buyer's agent secures a deal that only works in your best interest.
What to Expect when Hiring a Buyer's Agent in NYC?
While purchasing a home anywhere in the US is a huge decision, the prices found in NYC make it even more so. Getting the keys to your new home will be an exciting moment. However, you'll need to jump through many hoops to get there. The emotions associated with buying a home can run the entire spectrum from anxiety to stress and frustration. Advice from an expert in this situation is priceless, especially when purchasing a condo or co-op apartment. The main advantage of hiring a buyer's agent is that they'll help you choose the right property and negotiate the best price. Keep in mind that this service is available at no cost. ELIKA also has the best calculators and tools to help you plan and pass a condo or co-op board when buying a resale.
The difficulties of buying a home in NYC don't just stop at the high prices. With a limited inventory, buying in New York City is fiercely competitive. Then there's the time and effort you'll have to spend viewing dozens of properties before finding the right one. That is, of course, if you ever find and secure it. Depending on the market, bidding wars can be prevalent, so having a buyer's agent handle them and provide advice can be invaluable.
Determine Sellers motivation
The buyer's agent should try to determine how motivated the seller is. A "highly motivated" seller is likely more willing to negotiate. If someone's financial or personal situation (e.g., divorce, already purchased another home, pending foreclosure) is ascertained, this would determine if the seller might be flexible in negotiations.
Assesses Current Market Conditions
Your buyer's agent should understand current market conditions, sentiment, and trends. Comp data is a lagging indicator, so an experienced buyer's agent adjusts based on real-time information. This is currently a buyer's market for New York City real estate; it helps having a buyer's agent on the "front lines" will have a sixth sense when the winds change.
Property Condition
The essential consideration of the property conditions, including the building itself. It is a complex area with many factors to consider. These include the building's profile, age, unit mix, ownership share of primary users versus investors, and the electrical/plumbing quality.
Improvements and upgrades
Have there been property improvements and upgrades or lack thereof? An experienced agent knows what is worth paying extra for and what is not. Elegant Kitchen and bathroom renovations are usually welcomed; if necessary, considerations for the replacement cost, process, and time are assessed.
Comparative Market Analysis
Now, the agent should turn to sales comps and assess a comparative market analysis. The comparison must be meaningful; an experienced buyer's agent will ensure that—recent closing prices or like-kind properties in the same neighborhood, ideally in the same building. If relevant data is lacking within the building, your buyer's agent must find comparable properties in other buildings nearby. The essentials are bedrooms, bathrooms, the unit's floor, a view, how much light the unit has, amenities, etc. Beyond recent transactions, they should also look at the listing price and trends for similar homes.
Who Pays the Buyer Agent Commission?
Buyer's agents are paid a commission percentage built into the sales price, like other agents. However, on Jan 1st, 2024, a new law came into effect in which the seller can set the amount of the commission payable to the buyer. There may be times in which a seller is offering less than 2%; only then would we require the buyer to pay the difference as a fee for our services.
With that in mind, you might think that the higher the sales price, the higher our commission is. But that's not how we approach it. From our perspective, our entire responsibility is to get you the right property at the best price possible. That is because we know that our business grows only with satisfied customers.
Relationships Matter
In real estate, reputation and relationships are worth much more than a single commission for a career buyer's agent. Instead of making as much money as possible from one deal, reputable buyers' agents understand their fiduciary duty. It is best to have satisfied client relationships that refer them to others over the long term. Happy clients are how buyers' agent builds their careers.
What if I Represent Myself?
You might be asking yourself, what happens if I merely represent myself?
You may also think the seller's agent will help you; however, they contractually owe a fiduciary duty to their client, not you, the buyer.
A listing agent's job is essential to selling a property. A buyer's agent must be unbiased and provide full disclosure. It involves obtaining the highest price for the seller with little to no disclosure.