New York City New Developments
Premier Buyer's Broker with 20 Years of Luxury New Developments Condo Experience.
The New York City skyline continues to change and evolve, and one thing we've seen a lot of in recent years is new construction condos. There are brand new properties that, in many cases, are still under construction. The purchasing starts early with these and for excellent reasons. Suppose you're interested in buying a condo in a new building in New York City. In that case, Elika Real Estate has dedicated expert buyer's agents that focus exclusively on new construction.
Did you Know? – You may not be able to close on the apartment unless the NYC Department of buildings issues a temporary certificate of occupancy (TCO) or the building department certifies a building's compliance with applicable building codes and other laws and indicates it to be in a condition suitable for occupancy.
Ready to Buy a New Development Condo?
We're here to represent you. Request a Custom Search
Explore
Featured In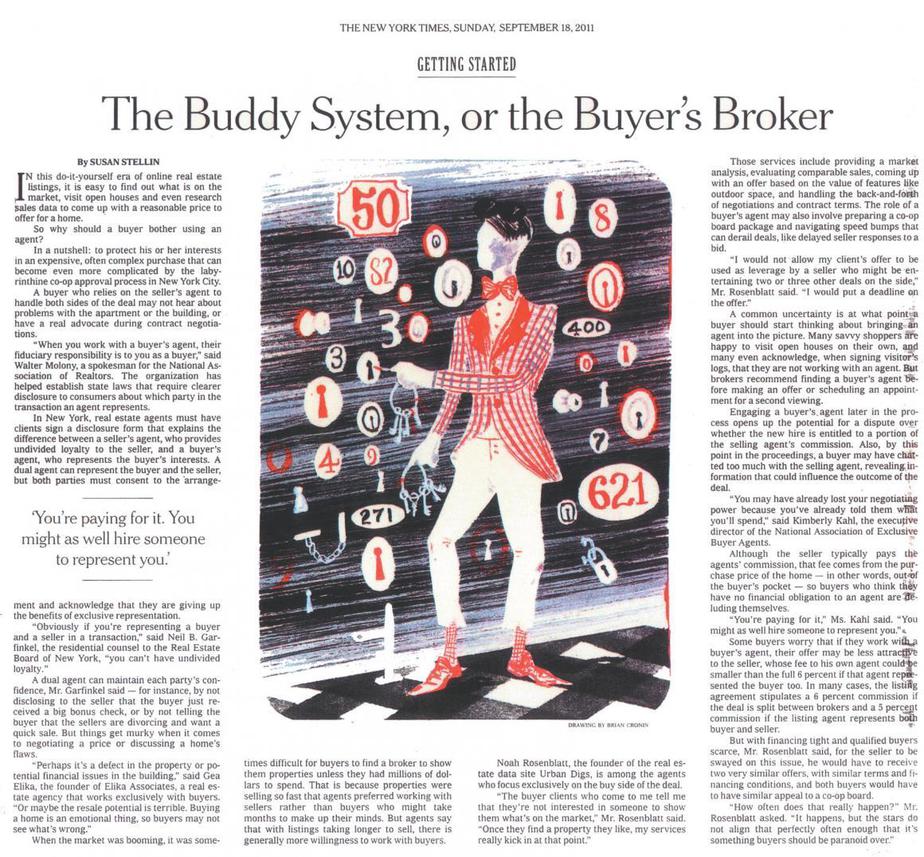 Buying a New Developments in NYC
Buying a new development condo in NYC can be overwhelming, particularly if you have little knowledge of reputable developers and construction companies. Buyers often opt for off-the-plan new construction condos but can also come with their 4own set of challenges.
New York's real estate is also unique for several reasons. Due to steady demand, analysts often rank New York City as a top market for real estate investment. It's essential to buy a well-built new condo construction developed by a respected developer. When purchasing a great product, you will have a solid chance to profit from it in the future.
Before buying new development condos as a home or investment property, you need to know here.
Find the Right New Construction
Properties that match your specific housing or investment needs will serve you well in the future. New construction can be a tricky segment of the market to navigate. Having a buyer's agent by your side will be invaluable. Let Elika's experts search, filter, and send you the best available new off-the-plan construction condos for sale.
Our agents can also recommend other professionals you'll need later on. If you have specific design and style requests, you'll need contractors, possibly an architect and an interior designer. Being an early buyer can also make it difficult to get a mortgage, as most lenders prefer to see properties that have at least sold 50% of their units. Our agents will help you find the right lender.
With a dedicated and experienced ELIKA buyer's agent at your side, you can be sure of receiving only the best in service. Our agents will handle the challenges of finding the proper development, work to get you the best deal on your terms, and refer you to other industry professionals you'll need for a successful purchase.
New Development Basics
First-time buyers might not understand the intricacies of luxury new development condos, leading to confusion during the purchasing process. It's essential to be cautious and make sure you purchase a quality product. Some recent developments mature gracefully, and others, unfortunately not.
Off-the-plan condos can appreciate well when purchasing the right one. However, much depends on the quality of the product delivered. When purchasing, essential considerations are building architecture, location, condo floorplan and size, buildings unit mix, amenities, and services.
The market's competitive nature doesn't always work in the buyer's favor. Many buyers have trouble scheduling a showing, especially when a building launches a sale or getting accurate information. New developments are often sold to friends and family before public release. An experienced buyer's agent with industry connections will have a greater chance of getting in before the public. Getting in at Schedule A pricing allows you to select a better unit.
Should I Buy a New Construction Condo?
At first glance, it might not seem very easy to imagine why someone would buy a property that could still be 1-2 years away from being built. But when you look into the benefits of new construction properties, it all makes sense. Buying in the early stages provides the opportunity to choose a better unit. Secondly, you may buy at a lower price as developers are eager to get a few contracts signed early on. Early often means buying at Schedule A pricing or better. Developers need these early sales to attract further sales and show lenders' progress.
However, new construction condos provide some challenges that need to be overcome. ELIKA has the necessary expertise and professionalism to ensure a smooth purchase. We've helped countless home buyers and investors close on new construction condos; that experience shows in our sales history. We know the type of clientele attracted to New Developments. As such, we know how to address all their needs and concerns.
ELIKA can provide you with preferred access to Schedule A family & friends pricing and expert, unbiased advice if you want to buy. We ensure that you understand the pros and cons of one building vs. another and help you find the ideal building for your lifestyle or investment needs.
Purchasing a new construction can also be risky when not knowing the red flags to consider. We will look closely into every project to see if anything could pose a risky investment. We'll then pass on our advice and help you make the best decision on your terms.
Financing
Finding mortgage financing with your bank for new construction can be difficult if 50% or more units have not been sold. Most well-known developers secure pre-approved lenders. In this case, the pre-approved lenders would serve as the best option when financing. A building without pre-approved lenders is a red flag, and we urge caution before considering it any further.
The Advantages of New Developments
Versatile Modern Floor Plans
If you want to design your floor plan, you'll have more options and save money off a remodel by purchasing property off-the-plan. Buying off-the-plan can be scary, but having foresight can yield great results. While most developers do not customize your floor plan in NYC, you will have a broader selection to choose from. It makes finding the ideal floor plan easier if you get in early.
Better Value Overall
Although you'll need to pay higher closing costs and a down payment of about 10%, or sometimes 20%, for an incomplete apartment, if you buy early, you may have already offset the higher costs with capital appreciation by the time your building is finished selling. On average, 3-5 pricing amendments are filed before the development is sold. Typically, a mixed batch of units will be sold; an amendment will be filed for the next collection to market at a higher price. Thus, the earlier you buy, preferably Schedule A, the better your chance to make a paper profit before completion.
First-time Residency
As the owner of an off-the-plan condo, you'll be the first person to live in the space. For many buyers, this exclusive benefit is well worth a premium. However, this advantage does not translate if you decide to sell your condo.
When buying off-the-plan, there is a tremendous long-term value, undoubtedly the most compelling for many buyers. Incomplete apartments can appreciate as they near completion. As a result, buyers looking to invest often consider off-the-plan properties before considering resales.
Research the Developer/Sponsor and Sales Team
Reputation says a lot about what you may be getting when buying. Look at the developer/sponsor; are they well known? Have any of them faced significant problems? The name behind a development says a lot about the product. A big name will increase demand – while a developer with a history of poor construction is a red flag to stay away.
A low-quality development developer can be a waste of your money. Ask your buyer's agent about their reputation and visit a few buildings to see how they've stood the test of time. For comprehensive research, ensure no Better Business Bureau complaints are filed against them.
Ask How the Square Footage Is Calculated
Recently, square footage has become controversial, with some measures varying by 10-20 percent. Usually, it's in the broker's and developers' best interest to exaggerate the size because that means a more significant sale. The seller's bank did two appraisals; one said the apartments were 1,634 square feet, and another said 1,741.
Regulators have found that some developers add common areas like hallways and elevators to the square footage or measure the exterior walls' distance instead of interiors. Using these tactics – which aren't always illegal – can cost buyers thousands of dollars.
Buying Off-The-Plan New Construction
Known as the "off the plan,"; low inventory drives up sales of residences that have yet been built. Some buildings sell more than 50 percent of their apartments before they are halfway done with construction. Those who wait for the building to be completed will miss out on the better floorplans and views.
Buying off-the-plan may allow you to buy at Schedule A pricing. It means you're buying at the lowest price. Although new developments are sold at a premium to the market, resale prices are typically higher as they sell inventory in batches until sold.
If you have a flexible timeline, getting the floor plan you want at a better price is worth waiting for. If the market is active, invest in a pre-construction condo that you can move into within a year or two. However, this tactic is riskier because you must trust the developer and market even more.
Off-the-plan properties are often not complete at the time of their purchase. Many New York buyers, especially foreign investors, prefer off-the-plan apartments for a maximized return on investment. They also prefer purchasing a property without the board approval requirement of some resales.
Off-the-plan condominiums often provide an excellent investment. While new developments have higher prices initially than resale properties due to the latest and greatest high-quality amenities and finishes, buyers who act quickly and purchase Schedule A pricing in the suitable building can see quick gains in property value.
Risks to Buying Off-the-Plan
There are risks and additional costs associated with off-the-plan developments. For instance, after contract signing, buyers might have to wait two years to move into their properties. It can mean additional temporary housing costs, which can quickly add up. Some buyers also have trouble finding financing during these wait periods, mainly if the development is below occupancy.
You'll receive an offering plan and demonstrations that detail the builder's plan for each space and room. Through this, you'll have the necessary information to visualize the specifications of your apartment, but you may have trouble gauging less tangible qualities. Most importantly, you don't know what you're getting with an off-the-plan construction.
For example, you won't know exactly how the view will look from your 12th-story apartment or how natural sunlight will affect your bedroom. You can make accurate estimates, but unless you're working with an experienced professional, you may still have a few surprises when you walk into your completed property for the first time. Other important considerations include:
They come with higher closing costs.
Unlike most real estate purchases in NYC, sponsors expect buyers to pay the most closing costs in a new development purchase. Typically, this includes the seller's N.Y. State and NYC transfer taxes and the sponsor's attorney fees. Attorney fees could range from $3000 to $5000, while the transfer taxes are even more expensive.
The NYC transfer tax is 1.425% for purchases over $500,000. The state tax is $4 per $1000 of the purchase price. The closing costs range from 5% to 6% for those financing.
Also, be aware that you might be asked to pay into a working capital fund, covering start-up costs for the building.
Closing Costs
Contribution to the working capital of the building
1% New York City mansion tax for properties at or over $1 million in value
NYC Transfer Tax of 1 percent of the purchase price for homes costing up to $500,000 and 1.425 percent of the purchase price for over $500,000.
State transfer tax; $4 per $1,000; of the developments purchase price.
The sponsor's attorney fee is usually $1,500+.
Buyers who finance must pay closing costs of five or more percent of the purchase price.
Because of the taxes and closing costs associated with new properties, buyers should always work with experienced real estate attorneys. Negotiating closing costs would be worth trying during a buyer's market or if the development is experiencing slow sales.
There may be New Development defects.
Just because the building is brand new doesn't mean it's free of any imperfections. Common problems in new constructions include warped wooden floors, exterior leaks, and ventilation, heating, or cooling system problems. Before signing the contract, ask for a home inspection by a qualified home inspector. If that's not possible, do a thorough final walk-through and notate a detailed punch list if needed.
Also, take some time to research the architect, contractor, and sponsor to see if they have a history of litigations from construction defects or other issues. Other than checking for previous litigations, check that they each have experience and that this isn't their first project. You can learn who's behind the project in the Identities of Parties section of the offering plan.
There may be a delay in the closing.
New constructions may not be for you if you need to close by a specific date. The average closing time for purchases in NYC is 30-60 days after entering into a contract. With new developments, this can be much longer. N.Y. state law requires the Attorney General's Office (A.G.) to approve the offering plan before the sponsor can begin marketing the condo units. However, construction does not have to be completed before granting this permission.
Until the buildings department grants a Certificate of Occupancy, you'll have to wait before you can move in. Also, the closing cannot occur until the offering plan is "declared effective." Each case is different, but it's not uncommon for new construction to take months or even years before closing.
The sponsor may not have enough funds to complete construction.
It may seem surprising, but the Attorney General's Office does not check whether a developer has enough funds to complete a project. All required to approve an offering plan is a disclosure that the sponsor is not putting up a bond and that the project description matches the offering plan.
Being an early buyer in a new construction might seem attractive, with a chance to pick and choose your floor plan and views. Remember that many risks must be weighed carefully before signing a contract.
Don't Ask for Special Amenities.
One of the main problems facing the One57 tower in Manhattan is billionaire buyers asking for custom designs and touches. Instead of marble, they want hardwood floors, or the bathroom needs a tub and a shower. It is both complicating and slowing the building process. Most custom touches or requests to bring in your designers will be denied.
As with all real estate, you are buying a new development comes with risks and rewards. You have a high chance of owning a great property with careful research, the right questions, and not overpaying.
Hire an Expert Buyer's Agent
We recommend having dedicated buyer agents when buying properties, especially new developments. Seasoned agents with industry relationships can help you purchase an off-the-plan condo before the offering; is released to the public at Schedule A pricing and the ability to request unreleased units with a better floorplan and view.
Agents assess and analyze each development to see if it can outperform the broader market. Buyer agents also work with established real estate professionals to offer appropriate referrals. It includes experienced attorneys who have worked extensively with new developments, a must-have – especially when considering the offering plan, contract of sale, and closing costs.
The qualified buyer's agents at Elika can help buyers handle the challenges of finding and purchasing high-quality properties worth buying. Educated and advised buyers stand a greater chance of securing the correct new luxury condo development for the right price.