New York City Luxury Condos for Sale
Premier Buyer's Broker with 20 Years of Luxury Condo Experience. Buy With Confidence.
We focus on helping buyers find the best condos throughout New York City. Whether it's a charming Greenwich Village studio you're looking for or a luxury condo on the Upper East Side, we will not rest until we've found the best property for you. We help people of all budgets by making the process as hassle-free and streamlined as possible.

We have been representing home buyers since 2001. We start by assessing your needs so that we know your preferences. We then research and find the right property, perform a comparative market analysis, and negotiate for the best price on your behalf. We'll then walk you through the financing stage and help you prepare your board application in the case of a resale.
Ready to Buy a Condo?
We're here to represent you. Request a Custom Search
Explore

Featured In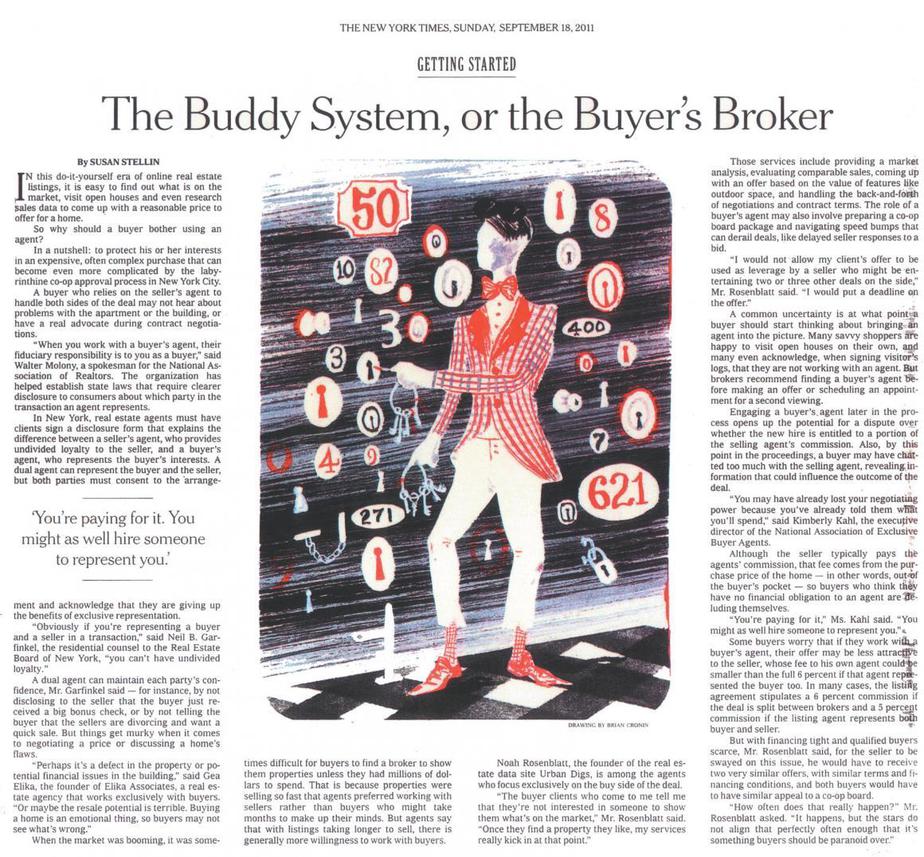 NYC Condos
While you can find condos around lakes and golf courses in many parts of the country, New York City condos are situated in high-rise buildings, one atop another. No board application is required when purchasing a luxury condo in a New Development. But these condos are still considered real estate; generally, the same laws on sales, financing, and taxes that apply to other properties also govern. So before buying a luxury condo apartment in New York City, here are some things you need to know.
Considerations Before Buying a Condo
This information will help you decide if the condo unit suits you. It will also give you insight into the condo board's cooperation, organization, and helpfulness.
The estimated time to close a condo purchase is 1-2 months.
Instead of owning shares in the cooperative, they purchase real property when people buy a condo. They receive a deed, and they pay taxes and ownership fees. They also have the right to sublet if they choose or sell the property according to their desires.
As more new buildings are built in New York, condos quickly gain market share and popularity. It is not surprising considering the ease of buying a condo vs. co-op. Unlike a coop, a condo apartment is "real" property. A buyer receives a property title (deed) as though they were buying a house on an individual plot. Each apartment gets a single tax bill. In addition, each.
Block and Lot
Each unit in a multi-dwelling building has its block number and tax lot in Manhattan. Common elements are those parts of the building that are not part of your condo apartment. These include the outdoor areas, and the building is on and inside areas like the lobby, hallways, and utility and laundry rooms. You also own a specified percentage of these common elements when you own a condo.
Accordingly, the whole building is collectively owned by the unit owners. Each unit owner pays a standard maintenance fee called common charges, and these go to the operating expenses for the building and are paid monthly. In addition, however, each unit owner must pay their real estate taxes.
Monthly Common Charges
A co-op's monthly common charge is similar to a co-op's maintenance charge. However, these. These charges don't include your real estate taxes and are not tax-deductible.
Young buyers, international investors, and buyers that choose to use creative financing are urged to consider condos. The straightforward nature of buying an apartment, coupled with the fact that in some cases, you can finance up to 90% of the purchase price and sublet them at will, makes condominiums the number one choice for flexibility. They also tend to be lower than in co-ops because there is no underlying mortgage for a condominium building.
Freehold
In a co-op, owners only own their unit and common grounds until they decide to move; ownership transfers back to the corporation. They cannot transfer title or ownership at any point and, in reality, never own anything. Condominiums are a different story. When buyers purchase a condo, they receive a deed, yearly taxes, and other ownership fees. They can sublet their condo or sell it outright if they so choose.
Key Factors
Financing Options: Although 90% financing is allowed, most banks in today's market require 20% down.
The Application Process: The acceptance ratio for condominiums is much higher than for a co-op, and no board interview is required.
Common Charges: There are often standard charges for the services, amenities, and upkeep.
Property Taxes: You must pay real estate taxes, which can be deductible in many cases if those deductions are carefully itemized.
Advantages
More available inventory.
With flexible financing options, most condo buyers can finance up to 90% of the selling price.
The more natural application process with higher acceptance ratios
Lower common charges usually
Condos have flexible sublet policies
Disadvantages
Closing Costs

are higher for Condos
Flexible financing and purchasing can attract less qualified buyers and investors who could be forced to sell at a lower price during distress.
Flexible sublet policies can attract more renters, which could cause more significant wear and tear on the building.
A disadvantage of purchasing a condo is the higher overall cost since there aren't many. However, this is changing quickly as many new developments throughout New York exist.
Buying Condo

in New York City
Crucial steps you'll take in purchasing a New York City Condo.
Mortgage Preapproval
Estimated time frame: 1 – 3 days
It's essential to understand how much you can afford to spend. Condo apartments typically require at least 10% down. Down payments can vary from building to building, with some allowing for as little as 5%. Although buildings accept 10%, most banks in today's market require 20% down. If purchasing a condo in a new development, the down payment could also vary.
Submit a mortgage preapproval application with several lenders. Most sellers will not take an offer seriously unless you've been pre-approved. Knowing your pre-approved rate will also let you know what your budget is. While it may be tempting to choose a property that matches the maximum pre-approved rate, it's better not to. The price may rise later in negotiations, so giving yourself a little breathing room is better.
Finding a Condo
Approximate time frame 1-6 months
The length of your search will vary depending on what you are looking for. The average buyer sees 15buyer'srtments before deciding on one. Our buyer's agent will work closely with you to determine your priorities in finding a home. It's sporadic to find a home that ticks all the boxes to list those things you need and not so much. Our agents will then find condos that match your criteria and arrange a private viewing.
Negotiation
Approximate time three days to 3 weeks
Estimate the fair market value based on the current market rate. The critical thing to keep in mind is that everything is negotiable. At Elika, we use a 4-6 data point analysis to estimate the approximate fair value. Our detailed report brings meaning to the numbers and helps you submit the right offer and start negotiations on the right foot. With our agents' advice and negotiating skills, you can expect to get your condo for a fair price. This stage can take time as offers and counteroffers go back and forth between both parties.
Contract Signing
Approximate time: 1-3 weeks
Once a price is accepted, ta deal sheet will be circulated. The seller's attorney will then draw up a contract of sale for your attorney. The buyer's attorney will then complete due diligence. The due diligence involves reviewing minutes and financial statements of the building and checking for any liens against the property. Upon review, the buyers sign the contract and forward it with a 10% deposit. The sellers will then execute the contract. The quicIt'syou can sign the contract, the better. It's essential to remember that in NYC, an agreement is only binding after both parties have signed. Possible contingencies: Financing, Board Approval, closing dates.
Mortgage Application
Approximate time frame 5 – 9 weeks
You can start the application process immediately since you've already been pre-approved for a mortgage. However, you will need to submit far more documents this time, and the process can get frustrating if anything is missing. An Elika agent will help you navigate this part by ensuring everything is in order before submitting it. In addition, mortgage applications cannot be processed without a signed contract. If you need financing, you'll need a commitment letter from a lender to proceed any further. These letters are, in most cases, the last items to complete a condo application.
Building Application
Approximate time frame 3 – 9 weeks
Condo resales require an application to be submitted and approved before closing occurs. For the board to review a potential purchaser, applications are given to prospective buyers to,fill out, then the seller's countersign; gathering the application's information generally takes approximately 2-3 weeks.
When working with an Elika buyer's agent, we assist in this process by making it as hassle-free as possible. Our agents have been through this process many times and may have already worked with the management company and board. If not, they'll make a few inquiries to learn more about their requirements.
Most Boards request the following information:
Full financial disclosure with supporting documentation
Employment history
Current Salary
Personal and business references
Tax returns for the previous two years
Credit history
Apply for review
Approximate time frame 1-4 weeks
After Elika completes your board package, we'll forward the application to the condo building's managing agent. The managing agent will inspect the board package to ensure it is complete. Your buyer's agent will forward the application package to the Board of Directors. After the board reviews the application, they approve and issue the proposed closing date. You'll be glad to know there's no board interview with a condo purchase.
Schedule a Closing
Approximate time frame 1-2 weeks
After board approval and your lender issues the waiver for closing, you can start scheduling a closing day seller's attorney will arrange this with the seller's attornYou'llfind a date that suits both parties. On closing day, you'll meet with the seller's attorney to finalize all documents and hand over any outstanding checks. You'll do a final walk-through before closing (or on the same day) to see if everything you last saw is in order.
Once all documents have been signed, you'll receive your deed of ownership. A representative from your lender will also be present. Congratulations, you are now the proud owner of an NYC condo.
Questions to Ask a Condo Before Buying
Before submitting an offer on a condo apartment, you'll want to get some essential information from the management company/board. So here are some questions to ask, no matter where you're trying to buy.
Unit Ownership Percentage: Primary User vs. Investors
What percentage of the units are owner-occupied, and what percentage is rented out to tenants? Generally, buildings with a higher owner-occupancy rate are more marketable when reselling the property.
Condo By Laws
Ask for a copy of the house rules and by-laws, and review them with your buyer's broker and attorney. Be aware of any grandfather clauses that govern the property. For example, you may find that residents can't rent out their units after a specific date, while those who bought earlier can do so.
Condo Building's Financials
Ask for a copy of the building's financials. For example, how much money does the association or board keep in reserve, and how is it invested?
Current or Future Assessments
Are assessments keeping pace with inflation? Is the board raising condo assessments yearly to build reserves to fund future repairs? Compare building assessments to other buildings to determine.
Reason for Assessment
What is covered by the assessment? Be sure also to find out what is not covered. Maintenance of the common areas, recreational facilities, Local Law 11 building repointing, trash collection, and snow removal are everyday activities paid for by condo associations and co-op boards.
Historical Frequency of Assessments
Were there any special assessments in the past five years? How much was each owner's share? Some building assessments are unavoidable, but frequent, costly assessments may be a red flag indicating a building is in poor condition. Or it may signify imprudent financial policies with the board itself.
Sales Turnover in a Condo Building
How many condo units have sold in the building in the past 12 months, and how often do they sell?
Law Suits
Is the board involved in any litigation? Lawsuits involving homeowners or developers can rapidly deplete association reserves.
Buildings Construction
Has the building's developer worked on other projects? Ask for an engineer's report. If the roof, windows, and bricks are in poor repair, they will affect the value of your housing investment and possibly your quality of life.