New York City Townhouses for Sale
Premier Buyer's Broker with 20 Years of NYC Townhouse Experience. Buy with Confidence.
When seeking to purchase a new home in New York City, there is no better than a townhouse. For most people, buying a Manhattan or Brooklyn townhouse can be complicated. That needn't be the case with an ELIKA buyer's agent representing you.

If you are interested in buying a townhouse in New York City, we can help. We specialize in assisting discerning home buyers and investors find the ideal townhouse in NYC for their specific needs. Our primary focus is helping you find the right townhouse and pay the best price.
Explore
Featured In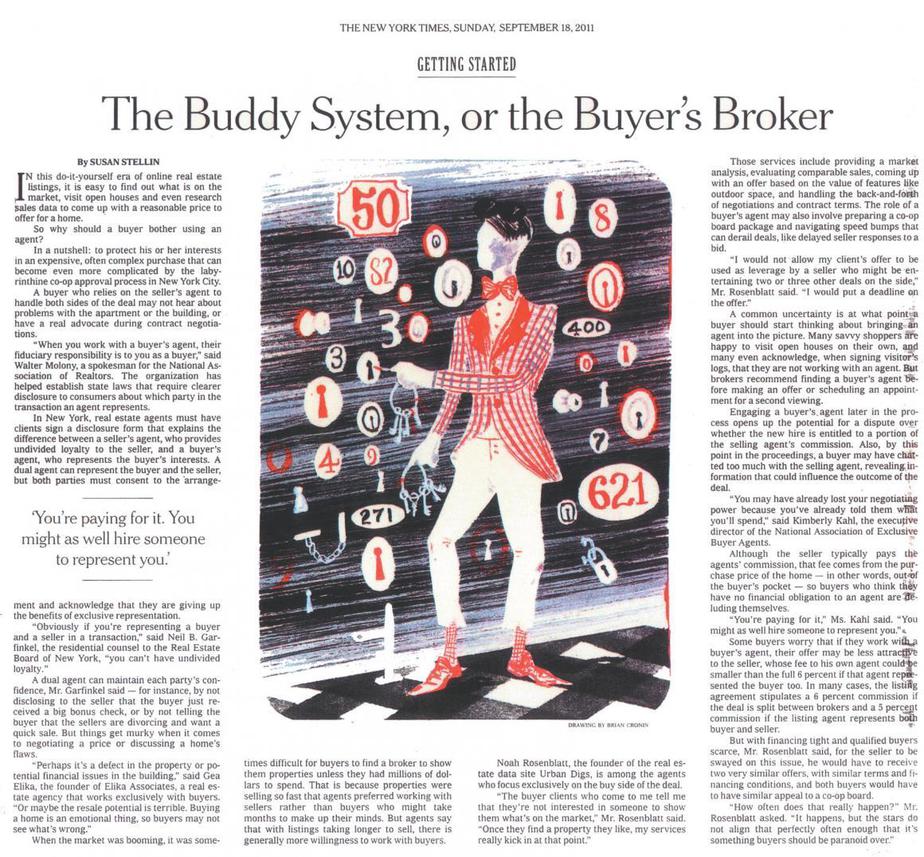 Why choose ELIKA?
We provide unbiased expert advice to guide clients through the purchasing process those seeking a townhouse. Whether it be a single or multi-family townhouse you're looking for, you can be sure of finding only the best when you work with us.
At ELIKA, we take immense pride in our reputation for diligence, integrity, and in-depth knowledge of the townhouse market. Our goal is to help our clients make informed and financially sound decisions that benefit them in the future. Elika saves clients time and money as a dedicated exclusive buyer's agent. We handle all the details, from financing to negotiations, contracts, inspections, and closing costs.
We know that no two transactions are the same, so we tailor our services to each client. Besides providing tailored services, our goal is to work hard to secure the best New York City townhouse at the best price and best terms just for you.
Should I Buy a Townhouse?
Townhouse living offers something unique you won't find anywhere else in the city — notably, complete privacy in a self-contained building. At first, they were primarily owned by New York's upper social class, which explains their ornate details. Townhouses started growing in the late 19th century and, over time, developed a reputation for their ornate details and classical designs. Due to this, you can find them all across Manhattan and Brooklyn and see how they feature some of the unique architectural designs you'll find in New York. You can see some of the best by taking a stroll along Cranberry Street in Brooklyn Heights, especially along 10th street between 5th and 6th.
How to Buy a New York City Townhouse
You will have noticed that most properties in Manhattan or Brooklyn are co-ops and condos for sale. While these properties may have many benefits, they also have downsides, such as needing board approval for renovations and noise level restrictions. Consider buying a townhouse for those who want the ultimate privacy and own their piece of New York City land.
Gardens, historical details, privacy, and many bedrooms and bathrooms are just some townhouse living benefits. The space and flexibility make it a dream home for many buyers. However, they also come with a whole new set of responsibilities. You'll be responsible for salting your icy stoop, taking the garbage to the curb, and maintaining your boiler and HVAC. But if it's privacy and independent living that you're after, they're probably the best choice in the whole city.
What are the Benefits of Buying a Townhouse?
One of the most attractive benefits of townhouse living is that there is no co-op or condo board approval process to purchase or sell. This means less hassle and delays in closing, but it also means no house rules. Coupled with most luxury townhouses, they have backyards, decks or terraces, and beautiful tree-lined streets.
I do not forget the original and historical details you can find in each one — most, but not all, date to the 19th and early 20th centuries. Stained glass, original woodwork, and decorative fireplaces are just some unique details buyers love.
There are also low carrying costs. By owning a townhouse, you can save big by avoiding monthly co-op maintenance and condo standard common charges to use the amenities found in many New York buildings. Along with that, real estate taxes are typically lower in townhouses.
The Pros and Cons of Townhouses
Like everything, though, there are a few downsides to consider. The cost of maintaining the townhouse falls entirely on your shoulders. There's no way to share costs with other owners like a co-op.
The townhouse and all its utilities are entirely your responsibility. Suppose you're planning to sublet by splitting it into multiple units. In that case, you may require a change in the Certificate of Occupancy — which you should consult with a real estate attorney before doing so.
Searching for a Townhouse
Before you can begin the search, there are a few things you need to organize. The first thing to start with is deciding which part of town you want to call home. Begin by seeing as many open houses as possible to familiarize yourself with what's there. Secondly, find a suitable buyer's agent that specializes in townhouses. Once you understand your needs, they can provide recommendations and start making phone calls.
Learn the details about rent-stabilized and rent-controlled tenancies. Also, educate yourself about buying a townhouse and think about the costs of possible renovations. Multi-Family townhouses are cheaper but come with less privacy. You'll also need to have your finances in order. The closing costs on a townhouse are typically 2-5% of the purchase price.
Home Inspection is a must.
Once you've found a townhouse, you may tempt to move straight to making a purchase offer. Instead, hold out until you've had the property inspected by a licensed home inspector. It is usually not an issue with co-ops or condos, but it should be mandatory with townhouses. Have them check for any structural issues, plumbing, or electrical issues. That way, you can avoid any nasty surprises after buying the property.
If you find any problems, you might negotiate a reduced price or ask that repairs be done before signing a contract of sale.
Negotiating a Townhouse
Your buyer's agent runs a comparative market analysis, then will conduct negotiations on your behalf and work to get the best offer. Your buyer's agent will help you draft a purchase offer if you're happy with everything.
There may be a bit of back and forth when counteroffers are made, but you can move on to the next step once you've reached an agreement. Once an offer is accepted, your broker will introduce you to a real estate attorney, who will iron out the final details and compose a purchase contract. Remember that nothing is binding until both parties have signed on the dotted line.
Reviewing the Contract
Once an agreement has been reached, the seller's attorney will draw up the deal sheet. The deal sheet is then sent to the seller's attorney, who will, in turn, draft the contract for the buyer's attorney to review. Upon signing the contract, you must write a check for 10% of the purchase price. They will keep the cash from this in an escrow account of the seller's attorney until the sale has closed. You are now "in contract," with neither side able to walk away without legal consequences.
If you're financing the purchase, now is the time to begin applying to banks for a mortgage loan. You'll also need to arrange for homeowner's insurance. If you're taking out a loan, you won't be able to close without it. You will still need to clear the title if you're an all-cash buyer. You can usually close within a couple of weeks if you're paying all cash.
The Closing
Once the lender is ready, the buyer's attorney will schedule a closing. Be sure to do a final walk-through of the property to ensure it is still in the same condition you first saw it.
At closing, buyers, sellers, lenders, and attorneys will gather in an office to sign the various transfer ownership documents. The buyer will also write checks for the first mortgage payment and closing costs.
Congratulations! you are now the owner of your own New York City townhouse.
Final Thoughts
If you're considering buying a townhouse, your budget will be the main factor. Prices can vary widely depending on the neighborhood. The highest sales prices are in the 70s on the block between Central Park West and Columbus on the Upper West Side. The Upper East Side it's between Fifth Avenue and Madison. In Chelsea, it's on 21st and 22nd Street between 10th and 11thAvenue. The West Village also has some of the most prestigious properties. Buying a townhouse in New York City is the best investment one can make. That said, buying the right townhouse for the right price in the right location is even better Townhouse buyers should research average prices and consult a buyer's agent for advice and guidance.
Townhouse Pros and Cons
In a crowded city like New York, privacy is always a luxury. But if that's a high priority on your home wish list, then there's no reason you can't have it, assuming you have the means. Owning a townhouse not only gives you greater privacy. You also have greater flexibility to renovate without going through a pesky co-op board for approval. Nor will you have to deal with a downstairs neighbor making noise complaints. But it's not all smooth sailing. Townhouse living also comes with maintenance responsibilities, which can be both a pro and a con depending on the condition. Here are the pros and cons of buying a New York City townhouse.
Pros
Lots of living space
Townhouses mean lots of living space. It makes them perfect for a growing family as you won't need to rent out storage over time. The average width of an NYC townhouse is 18-20 feet. Anything less is, considered narrow, while anything above 25 feet would be called a trophy property.
It could have excess FAR.
If the building has any extra FAR, this can add extensions or additions to the back of the building. When done right, you can reap profits if you choose to sell in the future.
Privacy
Compared to an apartment building, you have total privacy within a townhouse as you own the entire unit. You won't need to worry about neighbors above or below you causing a nuisance with renovations or late-night cocktail parties. Or, if that's what you plan on doing, you won't need to worry about many noise complaints.
Convenient location
Unlike detached houses not found in the suburbs, most townhouses are located in the city. It means you get the benefits of your own private space and all the amenities and conveniences of living in the city.
You own the land
Owning a townhouse doesn't mean you own the structure; you also own its ground. It is excellent as an investment because if there's one thing that only goes up in value over the years, it's land. Perfectly captured in a quote by John Jacob Astor, America's first multimillionaire. On his deathbed in 1848, Mr. Astor is said to have exclaimed:
"Could I begin life again, knowing what I now know, and had money to invest, I would buy every foot of land on the island of Manhattan."

John jacob astor
Cons
Limited freedoms
Depending on the NYC Department of Buildings (DOB) and, when applicable to the Landmarks Preservation Commission, there may be strict restrictions on what improvements you can make both inside and outside the home. If you envision making major renovations, this could severely limit your options and stifle creativity. Before buying, check first to see which laws and rules you'll be bound by. When hiring an architect, they will employ the services of an expeditor to assist with DOB filings to expedite.
Small yards
While a townhouse can be very spacious, the same can't often be, said for the backyard. Don't expect to have a lot of space for landscaping. However, this does depend on the design of the townhouse.
Advantages of a Townhouse
With your townhouse, you'll have the freedom to live as you want in your own space with no co-op board or landlord telling you what you can and can't do. You'll be able to enjoy the seclusion of your own space along with multiple levels for any use you see fit. Also, there's the backyard garden or alcove area to dine in or build a garden.
Do you dream of hosting lavish dinner parties? A townhouse will give you the space to do it and the style that a fancy dinner party calls for. Do you want a quiet place to escape the city's hustle and bustle? A townhouse will provide that oasis and charming tree-lined streets to go with it. You are indeed in your world when you choose townhouse living.
Disadvantages of a Townhouse
Like anything, they do come with their downsides as well. Having your own home also means caring for it and paying for maintenance and repairs from time to time. In other words, you'll be responsible for taking the garbage to the curb, salting your icy stoop, and maintaining your boiler and HVAC. Their hefty price tags may also present a challenge to some. But considering their advantages, like not needing board approval for any renovations, the privacy of your space, and not having to worry about keeping your noise levels down, the right person will have little trouble overcoming these challenges. If you're looking for a personal nest that still feels like a country home, you're sure to enjoy townhouse living.